ThrustMe, the leading innovator in iodine-based space propulsion, has announced the surpassing of a remarkable 200 orders, doubling its order book within a mere four months. This milestone not only mirrors the exponential growth within the space industry and the dawn of the industrial space era but also underscores the importance of accessible mobility in a sustainable space environment.
The space industry is moving through a significant transformative phase, characterized by the rapid ascent of New Space actors. These innovative players are launching satellites with increasing frequency and as a consequence accumulating invaluable experience from their space operations, effectively bridging the divide with legacy space actors. As missions become more refined and mission capacities expand, the blend of legacy knowledge and new-space innovation is steering the industry towards an Industrial Space Era. To sustainably leverage their full potential from economic and environmental aspects, space actors new and old will require increasingly sophisticated in-orbit maneuver capabilities for their space-based entities.
Established in 2017, ThrustMe has been at the forefront of this transformation, showcasing sustained excellence and leadership within the industry. The company's groundbreaking achievements include the NPT30-I2, the world-first demonstration of iodine electric space propulsion in 2020, followed by the subsequent industrialisation of its product portfolio. ThrustMe's track record of reliability coupled with outstanding quality has cemented its position as a pioneering manufacturer of the electric space propulsion technologies required for the industrial space era.
"Our factory is set to handle large-scale deliveries and we can accommodate the significant increase in orders we continue to receive. We have identified and are effectively and efficiently serving an underserved market, where clients are looking for top-quality propulsion solutions and expect consistent reliability in both product and delivery. At ThrustMe, we are proud to be fulfilling their expectations ", says Ane Aanesland, CEO and co-founder of ThrustMe.
ThrustMe's bestselling NPT30-I2 providessmall satellites with autonomous maneuverability and is in high demand. With the 2023 production slots fully booked and orders for 2024 arriving at an unprecedented rate, ThrustMe is strategically scaling up its production capacity. The company is aiming for the remarkable milestone of one unit per day before the end of 2024. Through its continuous commitment to innovation, ThrustMe keeps offering sustainable and intelligently operated iodine-based solutions that effectively address the pressing challenges confronting the space sector.
"Since the beginning of our development we were aiming to provide the community with a high-end disruptive product adding significant value to the market, not "simply" a propulsion system. Six years later we are happy to see that this objective was truly fulfilled. Our bestseller product NPT30-I2 is a key element for many small satellites to reach autonomous maneuverability in space, highly demanded by the market today. Our next step is to extend this experience to much larger satellites," saysDmytro Rafalskyi, CTO and co-founder of ThrustMe.

About ThrustMe:
ThrustMe is the go-to provider of high-performing in-orbit space propulsion and space hardware testing solutions for customers across the globe. It offers a portfolio of disruptive, deeply integrated and smart in-orbit space propulsion solutions designed for the new industrialized constellation space era. The company made the world's first demonstration of an iodine-fueled electric propulsion system in space - an achievement the space industry has tried to reach for over 60 years. Now ThrustMe is delivering propulsion systems to major satellite constellations and is offering support from ground testing to in-orbit maneuvering strategies.

ThrustMe propulsion system batch production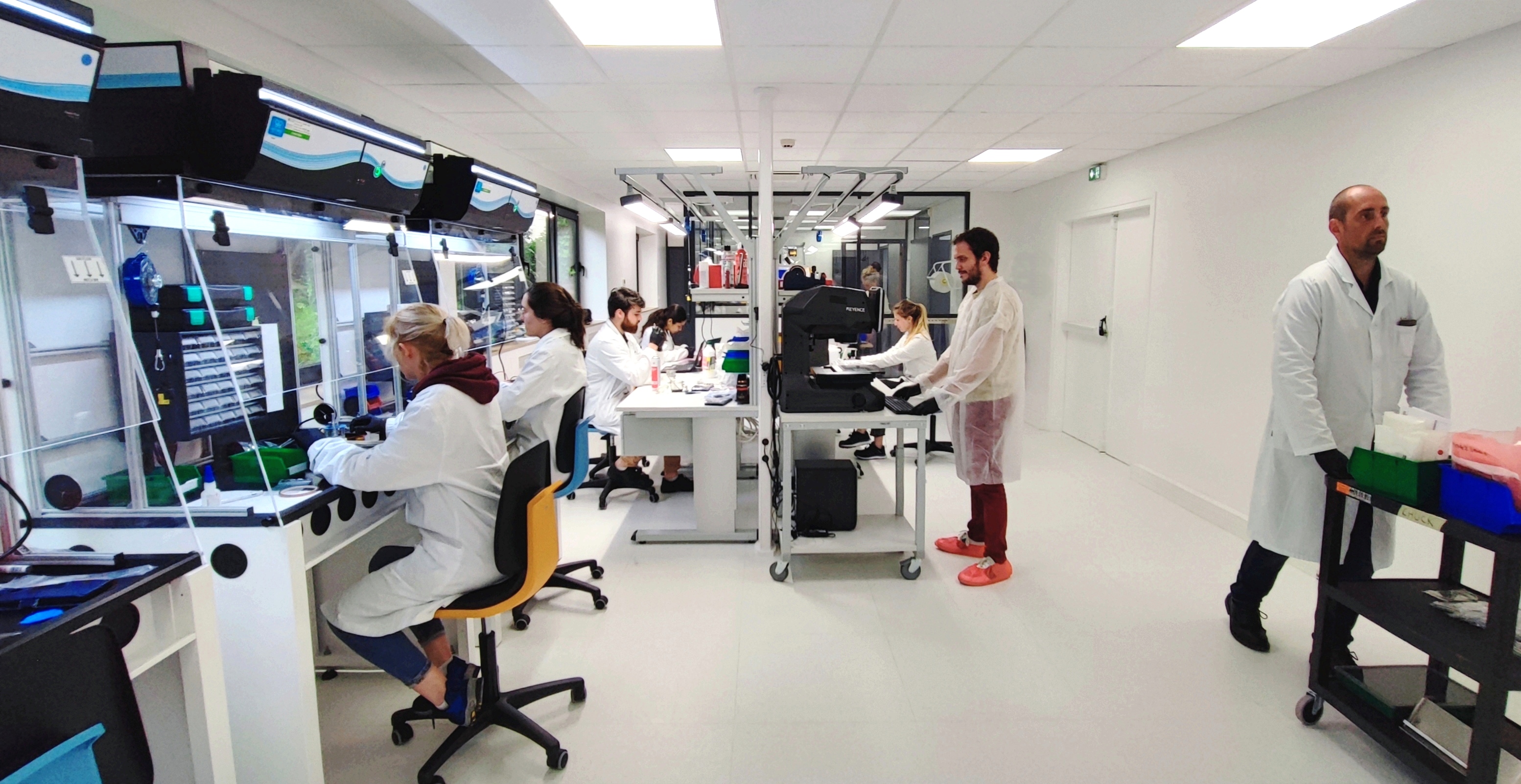 A glimpse inside ThrustMe's high-capacity production line
ThrustMe dépasse les 200 commandes et double les commandes de systèmes de propulsion en seulement quatre mois
ThrustMe, le leader de l'innovation en matière de propulsion spatiale à base d'iode, a annoncé avoir dépassé le nombre impressionnant de 200 commandes, doublant ainsi son carnet de commandes en quatre mois seulement. Cette étape importante reflète non seulement la croissance exponentielle de l'industrie spatiale et l'aube de l'ère spatiale industrielle, mais souligne également l'importance de la mobilité accessible dans un environnement spatial durable.
L'industrie spatiale traverse une phase de transformation significative, caractérisée par l'ascension rapide des nouveaux acteurs de l'espace. Ces acteurs innovants lancent des satellites de plus en plus fréquemment et accumulent par conséquent une expérience inestimable de leurs opérations spatiales, comblant ainsi le fossé qui les sépare des acteurs spatiaux traditionnels. À mesure que les missions s'affinent et que leurs capacités s'accroissent, la combinaison de connaissances héritées du passé et les innovations du « new space » oriente le secteur vers l'ère industrielle de l'espace. Pour exploiter durablement leur plein potentiel économique et environnemental, les acteurs spatiaux, historiques et nouveaux, auront besoin de capacités de manœuvre en orbite de plus en plus sophistiquées pour leurs entités spatiales.
Fondée en 2017, ThrustMe a été à l'avant-garde de cette transformation, faisant preuve d'une excellence et d'un leadership soutenus au sein de l'industrie. Les réalisations révolutionnaires de l'entreprise comprennent le NPT30-I2, la première démonstration mondiale de propulsion spatiale électrique à l'iode en 2020, suivie de l'industrialisation de son portefeuille de produits. Les antécédents de ThrustMe en matière de fiabilité et de qualité exceptionnelle ont consolidé sa position de fabricant pionnier des technologies de propulsion spatiale électrique nécessaires à l'ère spatiale industrielle.
"Notre usine est équipée pour gérer des livraisons à grande échelle et nous pouvons faire face à l'augmentation significative des commandes que nous continuons à recevoir. Nous avons identifié un marché insuffisamment desservi que nous desservons de manière efficace et efficiente, où les clients recherchent des solutions de propulsion de qualité supérieure et attendent une fiabilité constante, tant au niveau du produit que de la livraison. Chez ThrustMe, nous sommes fiers de satisfaire leurs attentes", déclare Ane Aanesland, PDG et cofondateur de ThrustMe.
Le NPT30-I2, best-seller de ThrustMe, offre aux petits satellites une manœuvrabilité autonome et fait l'objet d'une forte demande. Les créneaux de production de 2023 étant entièrement réservés et les commandes pour 2024 affluant à un rythme sans précédent, ThrustMe augmente stratégiquement sa capacité de production. L'entreprise vise l'étape remarquable d'une unité par jour avant la fin de l'année 2024. Grâce à son engagement continu en faveur de l'innovation, ThrustMe continue d'offrir des solutions durables et intelligemment exploitées à base d'iode qui répondent efficacement aux défis pressants auxquels est confronté le secteur spatial.
"Dès le début de notre développement, nous avions pour objectif de fournir à la communauté un produit de rupture haut de gamme apportant une valeur ajoutée significative au marché, et pas "simplement" un système de propulsion. Six ans plus tard, nous sommes heureux de constater que cet objectif a été réellement atteint. Notre best-seller, le NPT30-I2, est un élément clé permettant à de nombreux petits satellites d'atteindre une autonomie de manœuvre dans l'espace, très demandée par le marché aujourd'hui. Notre prochaine étape est d'étendre cette expérience à des satellites beaucoup plus grands", déclare Dmytro Rafalskyi, directeur technique et cofondateur de ThrustMe.
A propos ThrustMe:
ThrustMe est le fournisseur de référence de solutions de mobilité en orbite très performantes et d'essais de matériel spatial pour des clients du monde entier. Elle propose un portefeuille de solutions de propulsion spatiale en orbite innovantes, profondément intégrées et intelligentes, conçues pour la nouvelle ère des constellations spatiales industrialisées. L'entreprise a été la première au monde à faire la démonstration d'un système de propulsion électrique alimenté à l'iode dans l'espace, réalisant ainsi un objectif que l'industrie spatiale poursuivait depuis plus de 60 ans. Aujourd'hui, ThrustMe fournit des systèmes de propulsion à de grandes constellations de satellites, avec un soutien allant des essais au sol aux stratégies de manœuvre en orbite.
 

Production en série du système de propulsion ThrustMe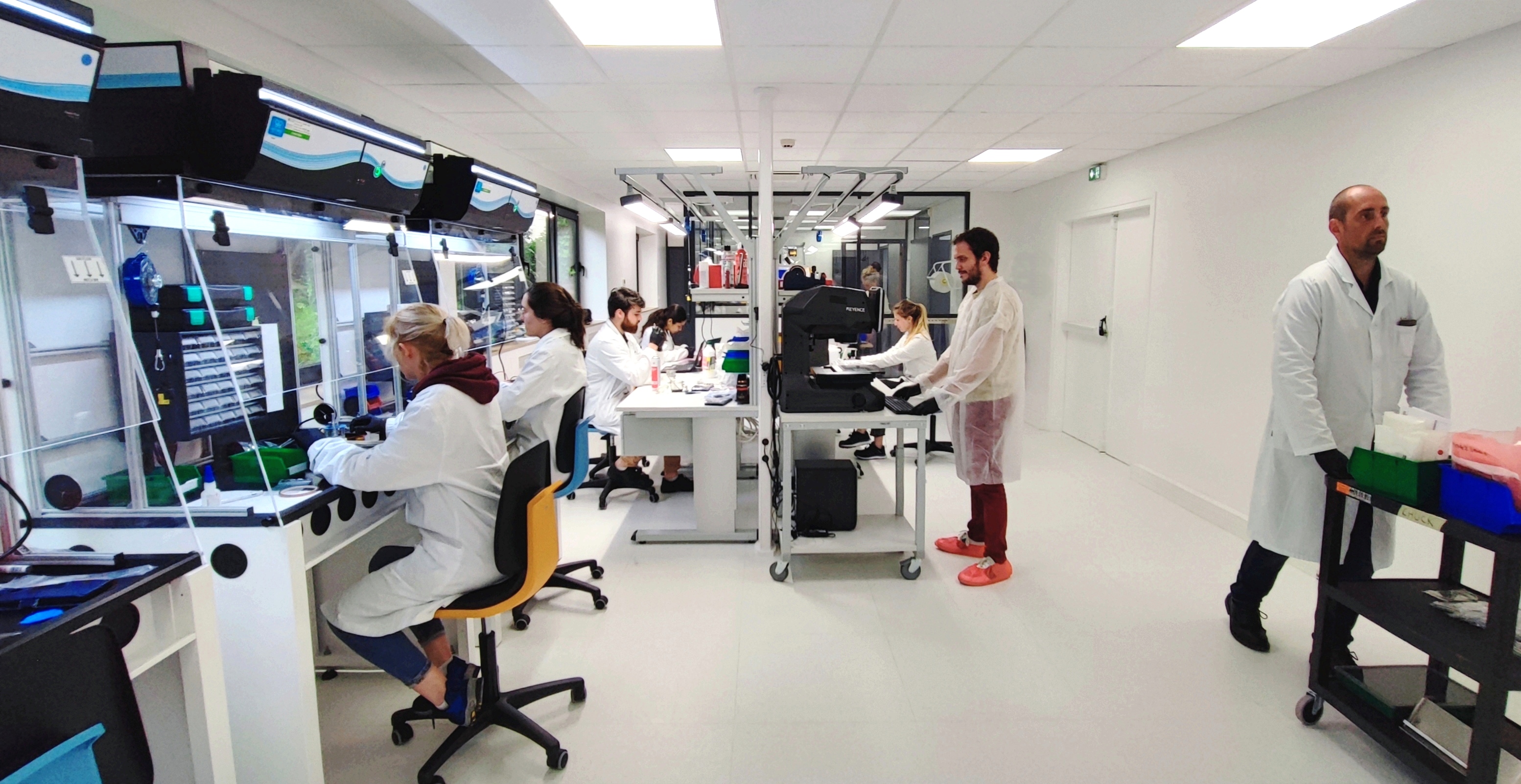 Un aperçu au sein de la chaîne de production à haute capacité de ThrustMe